by Caitlin H,
Sep 11, 2023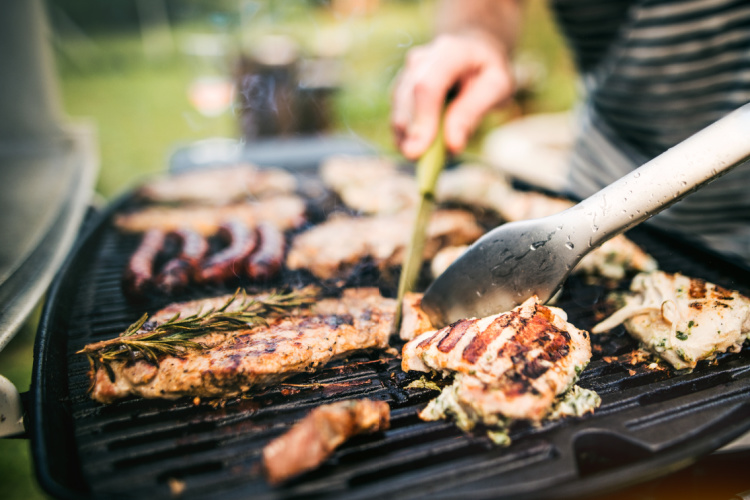 Summer may be ending, but that doesn't mean you have to stop using your grill! Cookouts might always make you think of burgers and brats, potato salad, brownies, and lemonade. As delicious as all those things can be, they're far from the only barbecue options. In fact, you can add variety to your menu by grilling proteins like steak, chicken, pork, and fish — particularly when they star in some delicious, unique, and healthy recipes that everyone will rave about.
Why don't you add a new recipe to your cookout grilling menu plan?
 

Steak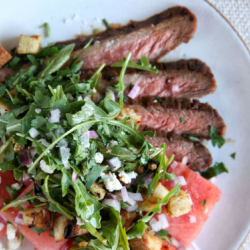 Serves: 4
Calories: ~400
Nothing says summer quite like watermelon. And thankfully, this delicious pink fruit is packed with antioxidants and nutrients — making it as good for you as it tastes! Watermelon and steak star in this dish, which leverages a simple spice mix and the perfect steak sear plus a fruity salad mix for a savory-meet-sweet dish perfect for enjoying at sunset out on the patio.
Get the recipe at Delish.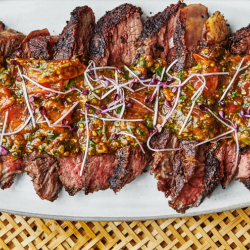 Serves: 4
Calories: ~450
Give your steak dish a serious kick with Tiger Bite Sauce, a spicy sauce made with Thai chilis, garlic, shallots, fish, and oyster sauce. You'll serve it over a tasty steak that's been soaking in a delicious Sichuan peppercorn marinade for the full flavor effect. It's a combination you're sure to come back to again and again.
Get the recipe at Bon Appétit.

Chicken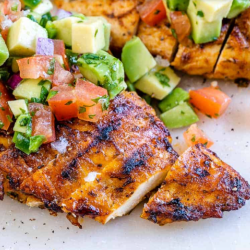 Serves: 4
Calories: 450
Chicken is a tasty, lower-calorie protein than steak — and it's also a summer cookout staple. But topping it with a spicy avocado salsa? That's taking things to a whole new level. Plus, it only takes 15 minutes of cooking time for this simple but scrumptious summer-friendly concoction that will have everyone's mouths watering.
Get the recipe at Healthy Fitness Meals.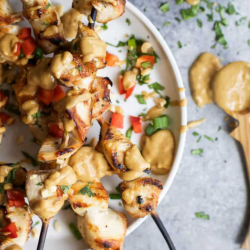 Serves: 4-6
Calories: 285
If you're a lover of Thai flavors, then this is the chicken for you. It combines the juicy tenderness of perfectly grilled chicken with the spicy, creamy taste of Thai Peanut Sauce for an Asian-inspired meal that tastes like it came straight from a restaurant.
Get the recipe at Joyful Healthy Eats.

Pork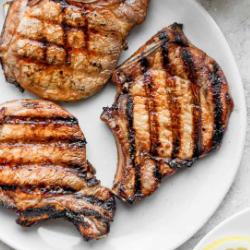 Serves: 2-4
Calories: 310
Keep things simple with these moist and tender grilled pork chops. All you have to do is marinade them ahead of time in a simple but exquisite mix of Worcestershire sauce, lemon juice, garlic, and brown sugar. When you're ready, preheat the grill and char these to juicy perfection.
Get the recipe at Fit Foodie Finds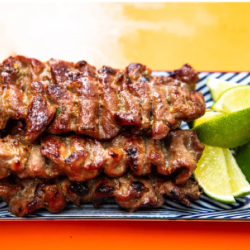 Serves: 6
Calories: 550
No cookout list is complete without skewers — and these juicy morsels take the cake. Pork skewers are a popular street food in Thailand — for obvious reasons when you give them a try. Prepare these in advance and roast them up at this year's neighborhood barbecue. Chances are, the steaks and burgers will get cold while everyone lines up for these instead.
Get the recipe at Serious Eats.

Fish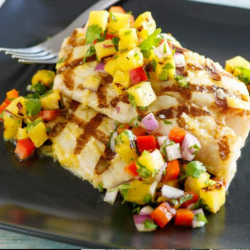 Serves: 4
Calories: 630
Lemon-garlic butter-soaked mahi mahi is a step above on its own. But top it with some pineapple salsa, and your tastebuds are really going to sing. Bring the Hawaiian flavors that embody summer to your next barbecue. Your guests will thank you!
Get the recipe at Recipe Girl.

Serves: 6
Calories: 360
If you're looking for something simple but still packed with flavor, then this grilled salmon recipe is just the thing. Brown sugar, soy sauce, lemon zest, Dijon mustard, and an array of spices mix together for a moist pre-grilling marinade that brings out the natural acidity and taste of the salmon. Grill it up for 5-6 minutes for juicy (and healthy!) fish perfection.
Get the recipe at Dinner at the Zoo.
————————————————————————————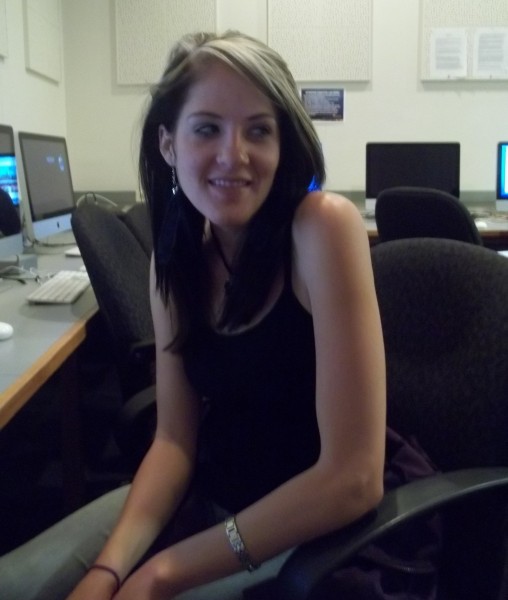 Author: Caitlin H
Diet-to-Go Community Manager
Caitlin is the Diet-to-Go community manager and an avid runner. She is passionate about engaging with others online and maintaining a healthy, active lifestyle. She believes moderation is key, and people will have the most weight loss success if they engage in common-sense healthy eating and fitness.
Recipes & Kitchen Tips