What started as a Korean beauty trend now reigns as one of the buzziest trends of 2023. You may have heard it called glass skin, glazed donut skin, jello skin, or some other dewy-sounding variation, but it all focuses on one main goal: glowy skin with a natural-looking gleam. Korean Beauty was the catalyst for this movement, known for its thoughtful skincare routines and an almost ethereal glow. But with audiences across the globe sharing their how-to's, tips, tricks, and DIYs on social media, there are more than enough recommendations as to how you can achieve this dewy look, too. 
I'm always eager to hear how others keep their skin looking dewy, so I asked our trusted in-house esthetician, Lexi, how she achieves such radiant skin. Lexi's mentality is simple: "Less is more." But it can't be that easy, right? Let's take a look at Lexi's routine and see what she has to say about just how attainable dewy skin is.
Lexi's Routine
Lexi is a Skin Type 6, which means her skin is fairly balanced and doesn't lean too far dry or oily (of course, this depends on the seasons since climate affects our skin). The goal for Skin Type 6 is to keep a good balance of water and oil in the skin while also focusing on ingredients that promote healthy aging (think retinol, vitamin C, and antioxidants). As you'll see, Lexi strikes this balance really well and uses products and ingredients that are beneficial to her skin type!
AM
Step 1: Cleanser
To start, she washes her face with either Mint Renewal Cleanser or Purifying Face Wash.
To make sure you're getting the most out of your routine, learn more about how to wash your face the right way and which cleansing mistakes to avoid.
Step 2: Toner
Immediately after cleansing, she goes in with the Moisture Infusion Toner. This not only delivers an instant blast of hydration to your skin (after all, glowy skin really just means hydrated skin), but it also clears your skin of any impurities that can be caused by minerals found in your tap water.
Step 3: Serum
After applying toner, she uses Vitamin C + E, a product she praises for its extremely hydrating qualities (and even claims it's the key to achieving her dewy glow!). This product is great for evening out your skin tone, as well as keeping your skin youthful-looking for longer. 
Bonus: This antioxidant-based serum is also helpful in protecting the cells of your skin from environmental damage!
Step 4: Sunscreen
Last but certainly not least, it's time to apply SPF. Lexi tops it all off with Weightless Protection SPF 30, which also functions as her moisturizer and keeps her skin protected from harmful UVA and UVB rays. 
PM
Step 1: Remove Makeup & Cleanse
Depending on the amount of makeup that she wore that day, Lexi will end the night by cleansing with either Better Than Balm or Soothing Aloe Cleansing Milk. Better Than Balm is a great option for days when heavier makeup like long-wear foundation is applied, as it breaks down makeup and debris through its unique dual-phase technology. However, Soothing Aloe Cleansing Milk is a gentle, calming option that's perfect for those days when you wear little to no makeup.
Step 2: Toner
She once again immediately follows cleansing with the Moisture Infusion Toner, making sure to wipe away any residual makeup with a toning cloth.
Step 3: Treatment
Next, she goes in with a prescription retinoid to fight fine lines and wrinkles. Lexi usually uses her retinoid about four nights a week (it's important not to overdo it so that your skin gets a break, the concept behind skincycling). Topical retinoids simultaneously thicken the deeper skin layers by stimulating the production of collagen while thinning out the outer skin layer, giving the skin a dewy, glowing appearance. 
Btw, a simple routine like Lexi's is key when using a prescription retinoid. Learn how to adjust your skincare routine when using prescription retinoids.
Step 4: Moisturizer
Finally, Lexi finishes off her routine with either the Hydraboost Rescue Cream or The Inkey List's Omega Water Cream. This once again helps deliver hydration and lock in moisture to keep her skin's moisture barrier healthy. 
What Products Does Lexi Recommend Outside Of Her Normal Routine?
Skincare
As I mentioned, dewy skin is just one of the many benefits of hydrated skin, which is why Lexi recommends using hydrating products containing ingredients like hyaluronic acid, glycerin, tremella fuciformis, and sodium hyaluronate.
She also agrees that exfoliation can be a great way to cycle out dead skin cells and allow new ones to surface, ultimately bringing a boost to your daily glow. While you won't want to exfoliate too much (2-4x a week max depending on your skin type), she says this is key to achieving beautiful, smooth, dewy-looking skin. Lexi uses Triple Berry Smoothing Peel two times a week, or a couple of days before any event where she wants a nice, dewy glow. In addition, she works in a physical exfoliant like Triple Berry Smoothing Scrub once a week. 
Makeup
And while your skin should hold the majority of your attention when trying to accomplish a beautiful glow, I'm a huge proponent of getting a bit of help through makeup as well. One product that Lexi swears by when it comes to dewy-looking skin is the Saie Glowy Super Gel. She wears this almost every single day for her self-proclaimed "best glow ever." Sometimes she also uses Glossier's Futuredew under her everyday makeup.
Wanting more makeup suggestions? Here are 5 makeup products I use to achieve glowing skin.
What Facial Treatments Can Help You Achieve A Dewy Glow?
If you're interested in a professional treatment to get a jumpstart on (or maintain) your glow, there are many treatments designed to bring you healthy, hydrated skin. Lexi recommends a deep cleansing facial to help with the overall health of your skin. Another treatment she suggests is a HydraFacial, specifically focused on helping you achieve beautiful, dewy skin.
What Lifestyle Adjustments Can Promote A Natural Glow?
Lexi believes that focusing on the inside is the most important part, as it is absolutely reflected on the outside. Focusing on a nutritious diet where you're eating mostly whole foods is key to a healthier inside and outside. Antioxidant-rich foods, such as avocados, broccoli, and berries, are another great way to promote healthy aging from the inside out. Lexi says this has been a big help in her life, not only with her skin but also with her hair and nails. Now we would never tell you to cut out fun food entirely (we aren't crazy!), but focusing on eating whole foods, lots of antioxidants, and less dairy is great for you both physically and mentally. 
Regular physical movement is important for so many reasons, and it also gets your blood pumping to deliver vital nutrients to the skin. This helps give an overall radiance. While nothing can replace a good workout, you can also try my two-minute trick for glowing skin!
What Mistakes Should You Look Out For When Trying To Get Glowy Skin?
While there aren't any glaring mistakes to be made, Lexi warns that layering too many products (especially heavy ones) can lead to clogged pores rather than your desired sheen. Hydrating oily, acne-prone skin incorrectly can lead to clogged pores and breakouts quickly, so it's really important to use products formulated for your skin type.
Lexi also brings slugging up specifically, stating that this process is oftentimes too much for people's skin. I personally only recommend slugging as a temporary measure for those with very dry and irritated skin. Again, a less is more mentality will save you in the long run. By finding one or two really good products, like her Vitamin C+E and Saie Glowy Super Gel, you can achieve a dewy glow without going overboard. 
So there you have it! With just four easy steps every morning and night (plus a little exfoliation and highlight here and there) you too can be on track toward the perfect dewy glow. 
Want to know more? Here are my eight top tips for making dull skin glow.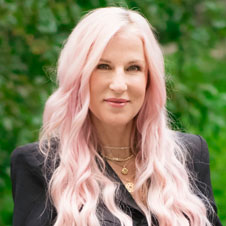 Celebrity Esthetician & Skincare ExpertAs an esthetician trained in cosmetic chemistry, Renée Rouleau has spent 30 years researching skin, educating her audience, and building an award-winning line of products. Her hands-on experience as an esthetician and trusted skin care expert has created a real-world solution — products that are formulated for nine different types of skin so your face will get exactly what it needs to look and feel its best. Trusted by celebrities, editors, bloggers, and skincare obsessives around the globe, her vast real-world knowledge and constant research are why Marie Claire calls her "the most passionate skin practitioner we know."