Big events give us something to look forward to, but preparing for them can also be a source of stress. The pressure to look great on one, specific day is overwhelming at times. While most of us have a big event on the books maybe once a year, celebrities are preparing for them constantly. Between red-carpet appearances, awards shows, and performances, they're no strangers to feeling the pressure!
I've had the privilege of being Demi Lovato's longtime esthetician, and I've helped prepare her skin for countless events. She was recently featured in Vogue for the look she debuted at the Scream 6 premiere. (Demi is a major horror film buff and even wrote a song for the movie!) She spoke about what inspired her look, but she also touched on how she prepped her skin for all that glam.
Demi is so fastidious about her skin and puts a lot of work into it. It's been a real honor that she's trusted me to help keep her glowing all these years. Seeing her talk about the products she used to get ready for the premiere inspired me to share some of the tips I give my clients. Keep scrolling to learn how to get glowing before your next big event! 
In the Week Leading Up To Your Event
There are a number of things you can do (and, more specifically, not do) to ensure you're looking healthy and glowing for your special event.
Limit Certain Foods to Curb Puffiness 
To be clear, no amount of green juice or "clean eating" in the week leading up to an event is going to have much of an impact on your skin. It's always great to include nutritious foods that are high in antioxidants ahead of the big day (and in general!), but I never advocate dramatically changing your diet in preparation for one, specific day. 
When it comes to foods impacting your skin in the short term, it's more about what you don't eat.
Dairy
For clients prone to acne, especially hormonal acne, I always recommend limiting dairy intake during this week. It's possible for dairy to trigger cystic breakouts, so going easy here can help reduce the chances of a flare-up. Some people's breakouts are also triggered by high amounts of sugar, so keep sweets to a minimum. 
Alcohol and Sodium
The other two foods to watch during this week are alcohol and sodium. Both can lead to puffiness, and excessive alcohol consumption can cause dehydration. 
Speaking of puffiness, here's how to manage under-eye puffiness. 
Avoid Professional Treatments 
Seeking out professional treatments ahead of a big event can be tempting, especially if your skin isn't quite where you want it to be. But if you're going to do any treatments, they should be done WELL in advance. This is especially true if it's a treatment you've never tried before.
Whether it's laser, microneedling, injectables, a chemical peel, extractions, or anything in between, be sure to get your treatment at least a month or two out. 
Don't Try New Skincare Products
During the week leading up to a big event, the last thing you want to do is experiment with new skincare products. Trust me, consistency is key. By trying something new, you risk having a negative reaction that could take a while to correct. 
Focus on Soothing Hydration 
In general, the focus this week should be on keeping the skin hydrated and soothed. Don't throw too many strong active ingredients at it. The goal is to have smooth, moisturized skin as a canvas for your makeup look. You don't want to risk irritation as this can lead to bumpy, red, or textured skin. 
One great way to prepare during this time is to up your use of a hydrating mask. If you're breakout-prone, try Rapid Response Detox Masque. Otherwise, you can reach for the ultra-soothing Bio Calm Repair Masque. Both of these are gel-based, and using them multiple times a week will increase the water content in your skin to make it nice and bouncy. If you struggle with puffiness, you can also keep them in the fridge for an extra cooling effect. 
Consider Cutting Back on Retinoids
Retinoids are hands-down one of the best ingredients for beautiful, glowing skin. But if you use a prescription, you know all too well that dryness and flakiness can be side effects. If this tends to happen to you, I suggest cutting your retinoid out a week ahead of your event. You can add it back in right after, but this will ensure your skin is smooth and flake-free for your important day. 
Exfoliate
Speaking of keeping skin smooth and flake-free, exfoliation is key. If I'm not personally giving Demi a facial, I'll have her do the Triple Berry Smoothing Peel two days before her event. This has been one of her favorite masks since it launched, and she uses it faithfully! I'm really proud of this peel because it gives professional results at home without irritating the skin. (Again, make sure you've used it before, and don't try anything new right before your event.)
The reason you don't want to do a peel the day before an event is that it can sometimes cause a little flaking the following day as old cells slough off. By doing the peel two days out, you'll ensure those old, expired cells are shed to reveal brighter skin underneath, just in time for your event. 
To help those expired cells along, you can also use a physical scrub like Triple Berry Smoothing Scrub. Try using it the day after doing the peel for what I like to call the two-step exfoliation method. This basically speeds up the exfoliation process and is a great way to quickly achieve brighter-looking skin. 
If You Get a Pimple, No Picking!!
I know it's so stressful to get a zit in the week leading up to an event, and this makes the urge to mess with it stronger than ever. But the worst thing you can do in this situation is pick at your skin! Having a blemish is no fun, but trust me, it's much easier to cover with makeup than a scab or a wound. 
If you do have a blemish, faithfully apply Anti Bump Solution, which is non-drying. You can also use a high-frequency wand to shrink it using the "sparking" method, as demonstrated on my own chin breakout here. 
If you do still have a blemish the day of, apply a non-drying cortisone cream. Once it's dry, apply moisturizer on top. The cortisone cream will help with redness and swelling, which will make it less obvious so that it can be easily disguised with makeup. 
Skin Care the Day Of Your Event
Once the big day arrives, you'll want to keep things simple.
Stay Hydrated and Boost Your Circulation
On the day of your event, you'll want to focus on getting plenty of hydration both inside and out! Our skin looks best when it has good circulation, so if you can, make time to go for a walk or do some yoga (or a workout of your choice) to get your breath flowing. This can also help calm any nerves you may be feeling. 
If you're pressed for time and can't fit a workout in, try my 2-minute trick for glowing skin.
At-Home Tools
If you're a fan of at-home devices, focus on the ones that will create a visible change for the big day.
My personal favorite is handheld microcurrent devices. They help bring a more lifted appearance to the face, and they can also help a bit with de-puffing. You'll get the best results by starting to use your device at least ten days before an event, but most people will also see a positive change by using it day of.
Another option is gua sha or other massage tools. These are great for lymphatic drainage massage, which is great for a dewier complexion because it stimulates circulation and blood flow to bring more nutrients to the skin. That said, if you're very prone to redness or have lots of active breakouts, I would skip this.
Keep Your Skincare Simple
The most important thing today is that your skincare is compatible with your makeup. The goal is wearability and longevity, so I prefer avoiding too many oils. These can make your makeup slip around. You also don't want your makeup pilling, which can start to happen if you layer too many skincare products underneath. For these reasons, I usually recommend that clients keep their makeup-prep skincare super simple, and Demi definitely follows this advice. 
After cleansing your skin, I keep it to around four products.
A Hydrating Mask
The morning of, use whichever hydrating gel mask you've been using to start things off on the right foot.
An Essence Toner
Once you've rinsed off your mask, move on to an essence. An essence is basically just an amped-up toner, and it deeply infuses your skin with hydration. Again, hydration is the name of the game because it's key to your makeup looking seamless. My go-to is Moisture Infusion Toner.
Moisturizer
Next up, a moisturizer for your skin type.
Those with oily/combination skin should use something with a lotion texture as opposed to a heavy cream. Demi is a Skin Type 2 (on the oilier side), and her standby for the red carpet is Sheer Moisture Lotion. "…Sheer Moisture Lotion…has my skin clean, prepped, and ready with a nice glow before I start glam," she said.
If your skin leans dry, try something a little thicker, like the Glow Enhancing Creme. This moisturizer was formulated to bring out your inner glow, and it's moisturizing without being sticky or greasy
A Brightening Eye Cream
Last but not least, a brightening eye cream. Another product Demi swears by when she's prepping her skin for makeup is the Vitamin C Eye Brightener. It reduces dark under-eyes over time, but it also has light-reflecting properties that make this area look instantly brighter. Its lightweight texture makes it perfect under concealer
Also, this is the only time you'll ever hear me say this, but it's okay to skip sunscreen just this once! SPF should normally be the star of the show, but today, it's all about the glam. I hope these tips helped and that they allow you to focus on the fun and excitement of your big day.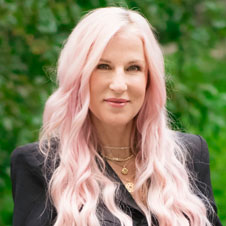 Celebrity Esthetician & Skincare ExpertAs an esthetician trained in cosmetic chemistry, Renée Rouleau has spent 30 years researching skin, educating her audience, and building an award-winning line of products. Her hands-on experience as an esthetician and trusted skin care expert has created a real-world solution — products that are formulated for nine different types of skin so your face will get exactly what it needs to look and feel its best. Trusted by celebrities, editors, bloggers, and skincare obsessives around the globe, her vast real-world knowledge and constant research are why Marie Claire calls her "the most passionate skin practitioner we know."