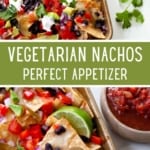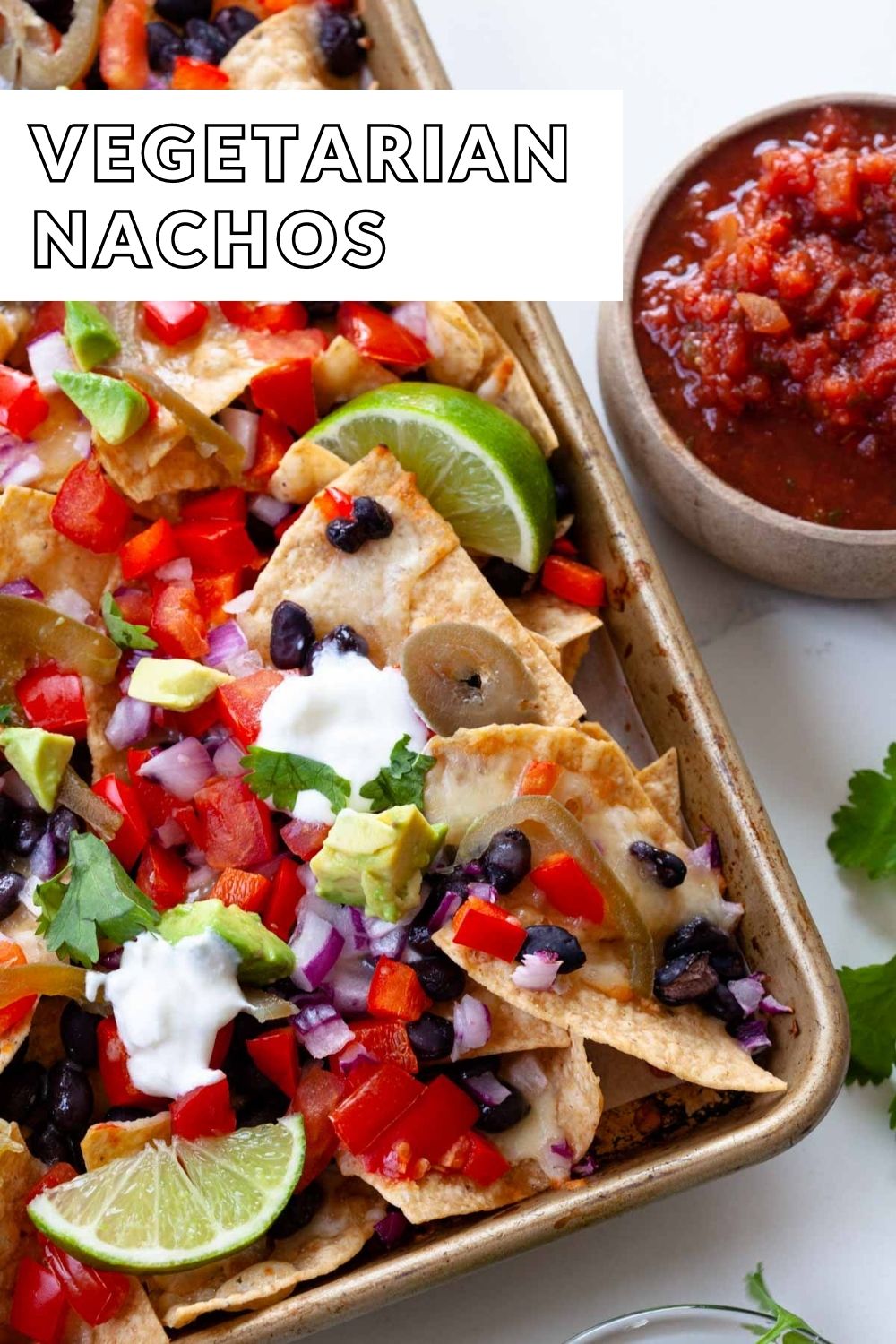 Ready in just 20 minutes, these vegetarian nachos are the perfect appetizer for a party or an easy, quick weeknight dinner. Loaded with black beans, cheese, and veggies like bell pepper, tomato, and red onion, they are sure to satisfy!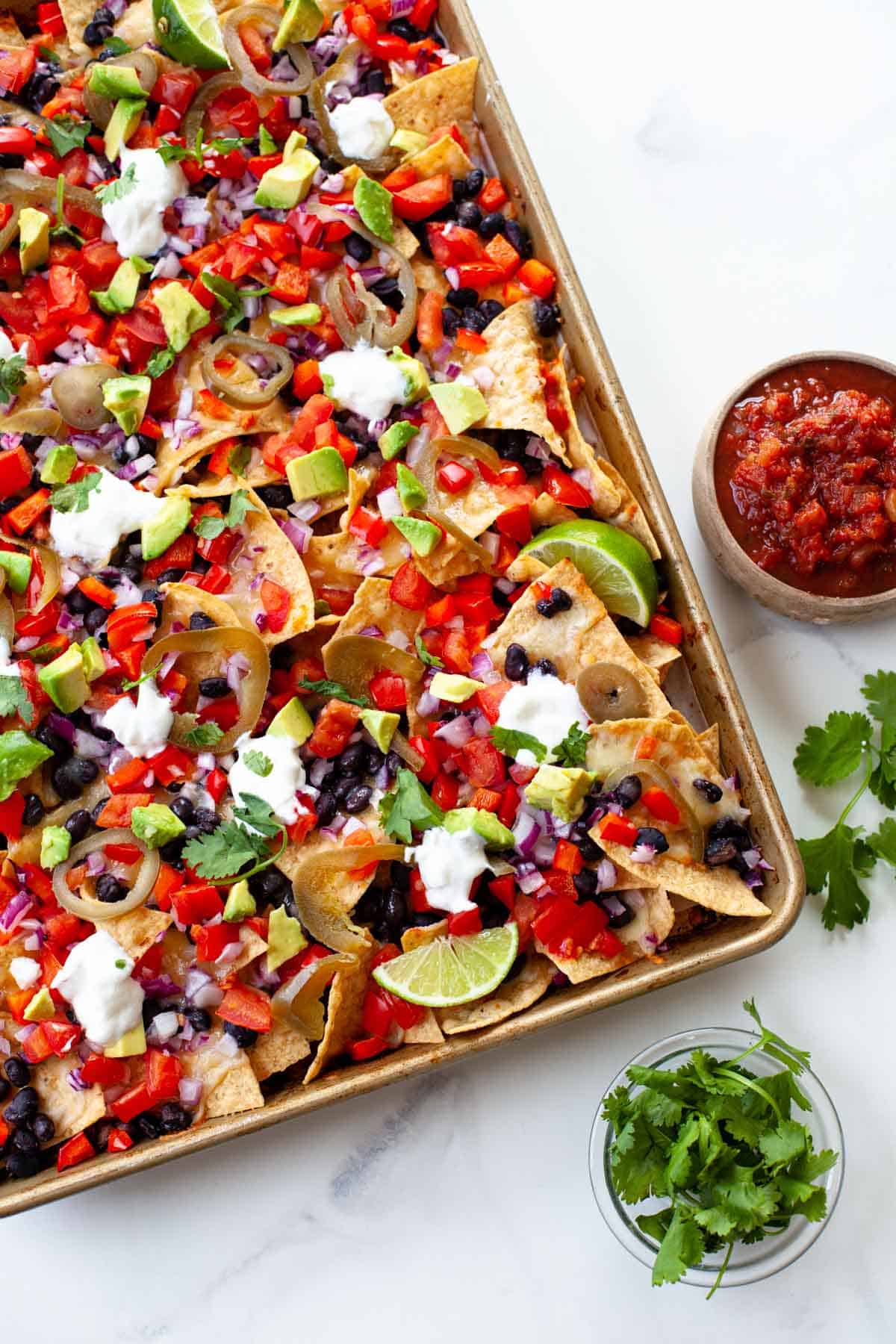 Why I love this Recipe
When it comes to finding the perfect appetizer that can please a crowd at a party or serve as a quick and easy weeknight dinner option, these vegetarian nachos are my go-to recipe. They tick all the boxes for me in terms of taste, satisfaction, convenience, versatility, and nutrition.
What sets these loaded nachos apart is the harmonious combination of wholesome ingredients. The black beans bring a hearty and protein-packed element to the dish, while the melted cheese adds a comforting and indulgent touch.
The real star of the show, however, is the colorful medley of veggies: bell peppers, tomatoes, and red onions. Not only do they provide a burst of freshness, but they also contribute to the vibrant visual appeal of the nachos.
Each bite offers a symphony of flavors, with the creamy beans, gooey cheese, and crisp veggies blending together perfectly.
Plus, these nachos are totally customizable. Using whatever veggies you have on hand or are in-season. And choose whichever toppings strike your tastebuds the most!
Whether you're hosting a gathering or simply looking for a quick dinner option, these loaded vegetarian nachos are sure to satisfy your cravings while impressing your guests with their deliciousness.
Ingredients You'll Need
For the nachos: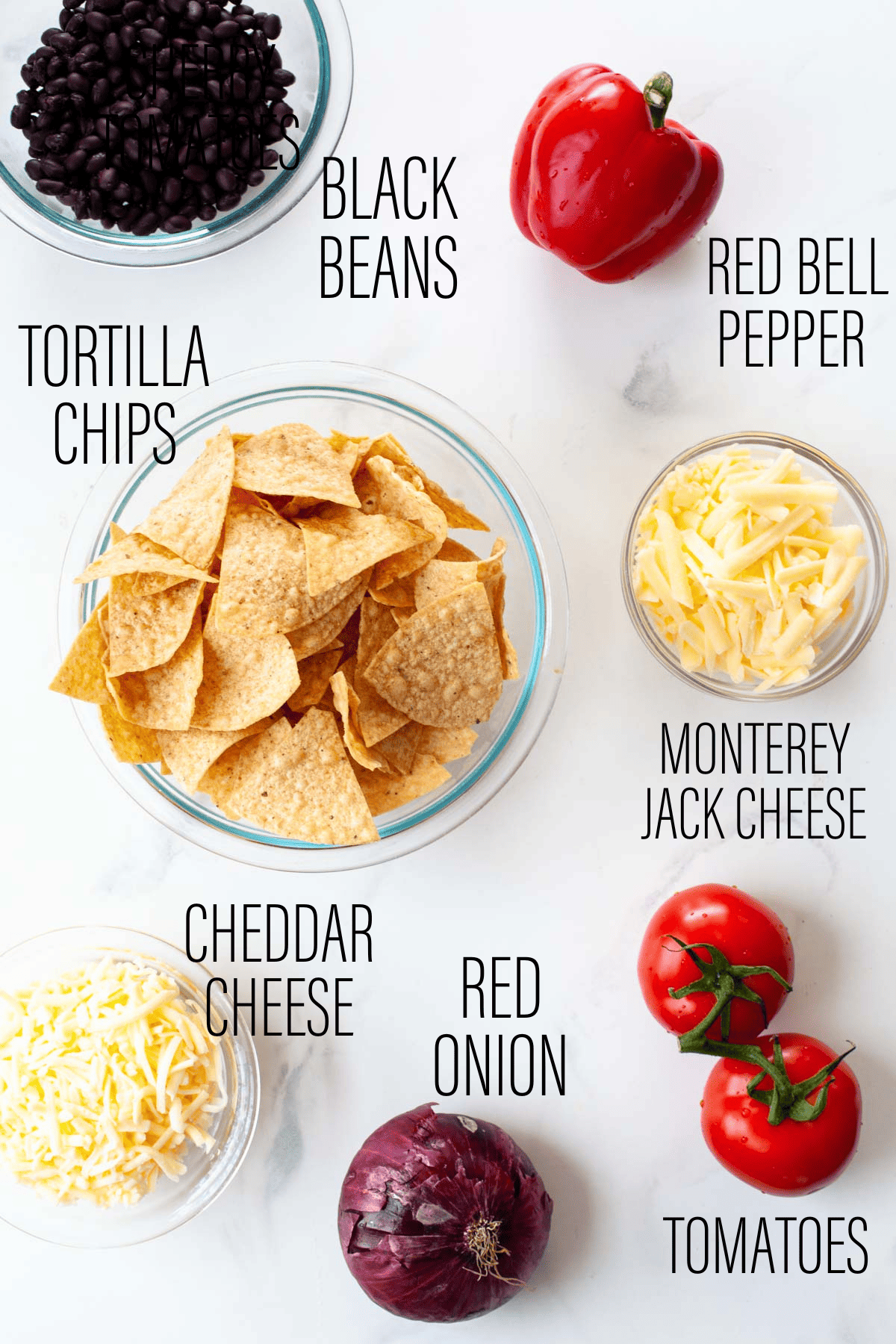 Optional toppings: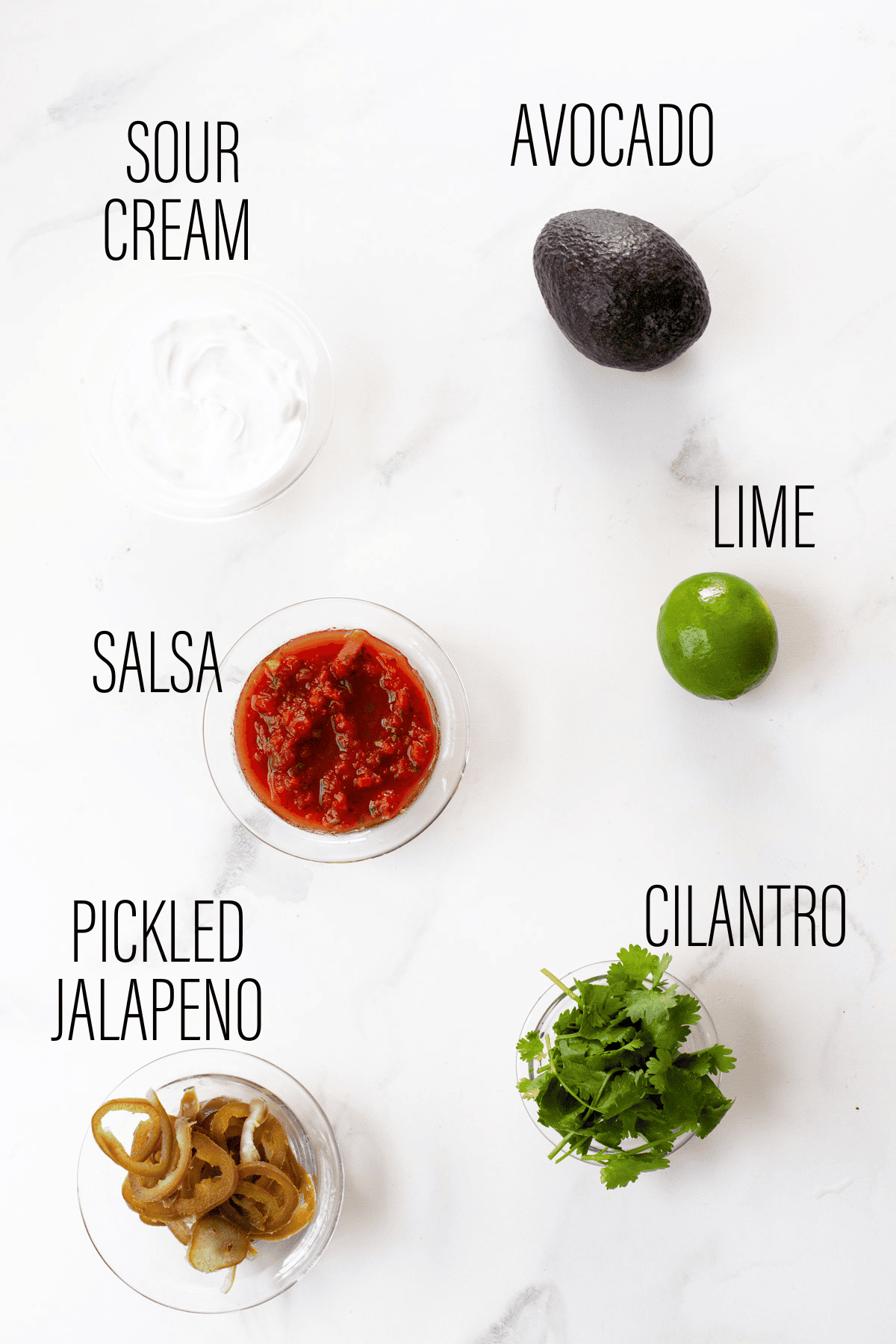 Notes on Ingredients
Tortilla chips: Crunchy and salty – the provide flavor and texture
Black beans: Earthy, slightly nutty flavor, adds protein and creaminess. Could opt for pinto beans if you prefer!
Cheddar cheese: Rich, sharp flavor, melts beautifully, adds tangy kick – make sure to grab thick-cut cheese for better melting!
Monterey jack cheese: Creamy, mild flavor, melts well, balances cheddar cheese – opt for thick-cut vs. finely shredded
Red bell pepper: Sweet, slightly tangy flavor, adds crunch and vibrant color.
Tomatoes: Juicy, bright flavor, adds freshness and zesty taste. I used tomatoes on the vine for these but beefsteak tomatoes would work too.
Red onion: Sharp, pungent flavor, adds crunch and depth to the dish.
Optional toppings:
Salsa: Tangy, slightly spicy kick, adds freshness.
Guacamole or diced avocado: Creamy, nutty flavor, adds richness and creamy texture.
Pickled jalapeño: Vinegary, spicy punch, adds tangy heat.
Cilantro: Bright, herbaceous note, adds freshness and citrusy flavor.
Sour cream or Greek yogurt: Creamy, tangy element, balances heat.
Limes: Zesty, citrusy touch, enhances flavors and adds brightness.
Equipment You'll Need (affiliate links – if you make a purchase I receive a small commission)
How to Make Vegetarian Nachos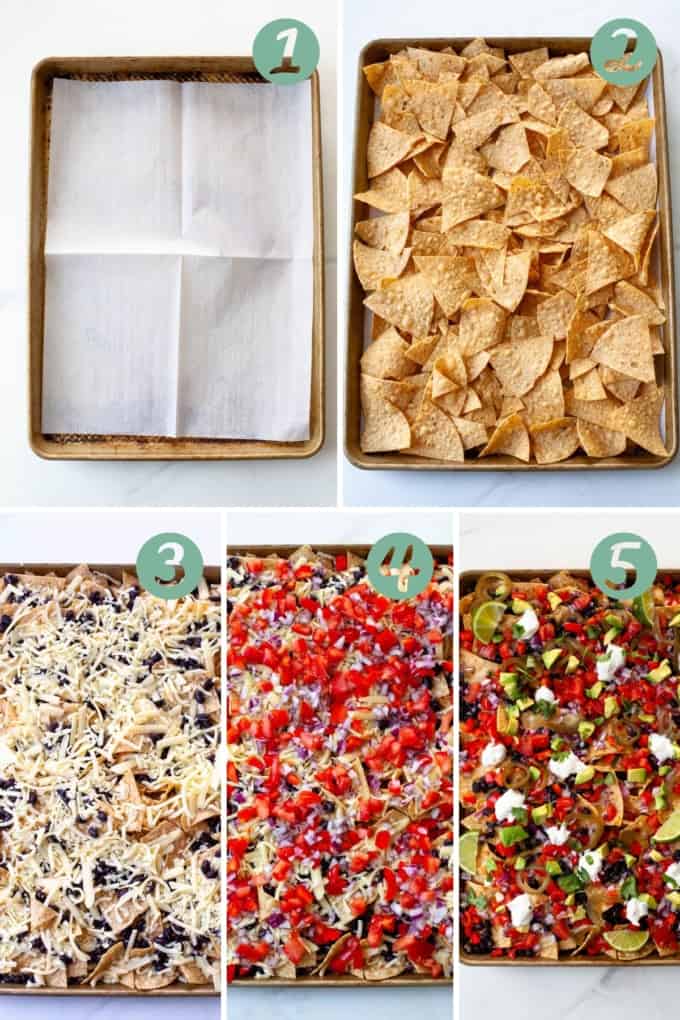 To prep: Preheat your oven to 400 degrees Fahrenheit and cover a large baking sheet with parchment paper.
Start with the tortilla chips as your base. Spread the tortilla chips evenly on the lined baking sheet, making sure to minimize any gaps between the chips.
Add beans and cheese. Pour the black beans on top of the chips, spreading them out as evenly as possible. Sprinkle the cheddar and Monterey Jack cheeses over the beans, making sure they are evenly distributed.
Add veggies. Scatter the diced bell pepper, tomatoes, and onion over the cheese layer.
Bake nachos. Place the baking sheet in the oven and bake the nachos until the cheese is melted and the edges of the chips start to turn slightly golden, usually around 10 to 15 minutes.
Add your toppings! Once the nachos are baked, you can add your choice of toppings of choice. Consider options like salsa, guacamole or diced avocado, pickled jalapenos, cilantro, sour cream or Greek yogurt, and a squeeze of lime juice.
Expert Tips
1. Beans first, then cheese! To ensure that every chip is loaded with toppings and flavors, try layering the ingredients strategically. Start by spreading a layer of tortilla chips on the baking sheet, then evenly distribute the black beans, followed by a layer of cheddar and Monterey Jack cheeses.
This layering technique helps to ensure that each chip gets a delicious combination of beans and cheese. The melted cheese helps the beans stick to the chips!
Finally, sprinkle the diced bell pepper, tomatoes, and onion over the cheese layer. This method ensures even distribution and prevents any ingredients from getting lost in the mix.
2. Customize your toppings! While the recipe provides a list of optional toppings, feel free to get creative and customize the toppings based on your preferences.
Experiment with different combinations such as adding sliced black olives, fresh jalapeño slices, or a sprinkle of your favorite spices like cumin or paprika. You can also consider adding a drizzle of hot sauce or a dollop of tangy salsa for an extra kick of flavor.
Customizing the toppings allows you to tailor the nachos to your personal taste and create a unique flavor profile.
3. Check the nachos starting at the 10 minute mark! To achieve perfectly melted cheese and crispy yet not overly browned chips, keep a close eye on the nachos while they are in the oven. Baking times can vary depending on the oven and the thickness of the chips.
Check the nachos frequently after the 10-minute mark to ensure the cheese is melted and bubbly, and the edges of the chips are just starting to turn golden brown.
Be cautious not to over bake, as this can result in burnt chips and overly dry toppings. Timing is key to achieving the perfect balance of textures and flavors in your vegetarian nachos.

Recipe FAQs
1. How do you keep sheet pan nachos from getting soggy?
To prevent your sheet pan nachos from becoming soggy, it's important to minimize the moisture content of the toppings. One way to do this is by draining and rinsing canned ingredients, like black beans, to remove excess liquid.
Additionally, avoid using overly watery toppings or sauces that can make the chips soggy. It's also helpful to bake the nachos at a high temperature, which helps to crisp up the chips and evaporate any excess moisture.
You can also serve toppings like sour cream and salsa on the side instead of dolloping them on top of the actual nachos, which will contribute to sogginess. 
2. How do you keep nachos from sticking to the pan?
To prevent nachos from sticking to the pan, you can line the baking sheet with parchment paper or aluminum foil. This creates a non-stick surface that allows the nachos to easily slide off the pan after baking.
Alternatively, you can lightly grease the baking sheet with cooking spray or a small amount of oil to create a barrier between the nachos and the pan.
3. What's the best cheese for nachos?
When it comes to choosing the best cheese for nachos, it ultimately depends on personal preference. However, popular options that melt well and provide a delicious flavor are cheddar and Monterey Jack cheese. Cheddar cheese offers a rich and sharp flavor, while Monterey Jack cheese has a milder and creamier taste.
For an extra flavorful twist, you can also experiment with a blend of different cheeses, such as cheddar, Monterey Jack, and even a touch of spicy pepper jack. Ultimately, the best cheese for nachos is the one that you enjoy the most!
Storage and Preparation 
If you have leftover nachos, store them in an airtight container in the refrigerator for up to three days to ensure freshness and taste. If you have any leftover toppings, store them separately in individual airtight containers. This will help maintain their freshness and prevent them from affecting the texture of the nachos.
When you're ready to enjoy the leftover nachos, you can reheat them in the oven, microwave, or air fryer.
For the oven, preheat it to around 350 degrees Fahrenheit, place the nachos on a baking sheet, and heat them until warmed through.
For the microwave, transfer the nachos to a microwave-safe plate and heat in short intervals (15-30 seconds), checking in-between, until they are heated to your desired temperature.
My favorite way to reheat nachos is the air fryer because it helps to crisp up those chips again! Add nachos to the air fryer basket and heat and cook at 350 degrees F for 3-4 minutes, or until cheese is melted and chips are crispy. The only downside to reheating in the air fryer is it's a little messier and requires you to clean out the air fryer basket thoroughly.
Remember that the texture of the nachos may change slightly upon reheating, as the chips may lose some of their crispness. However, they can still be quite enjoyable as a leftover snack or meal. Just make sure to consume them within a reasonable time frame to maintain their quality.
Recipes That Pair Well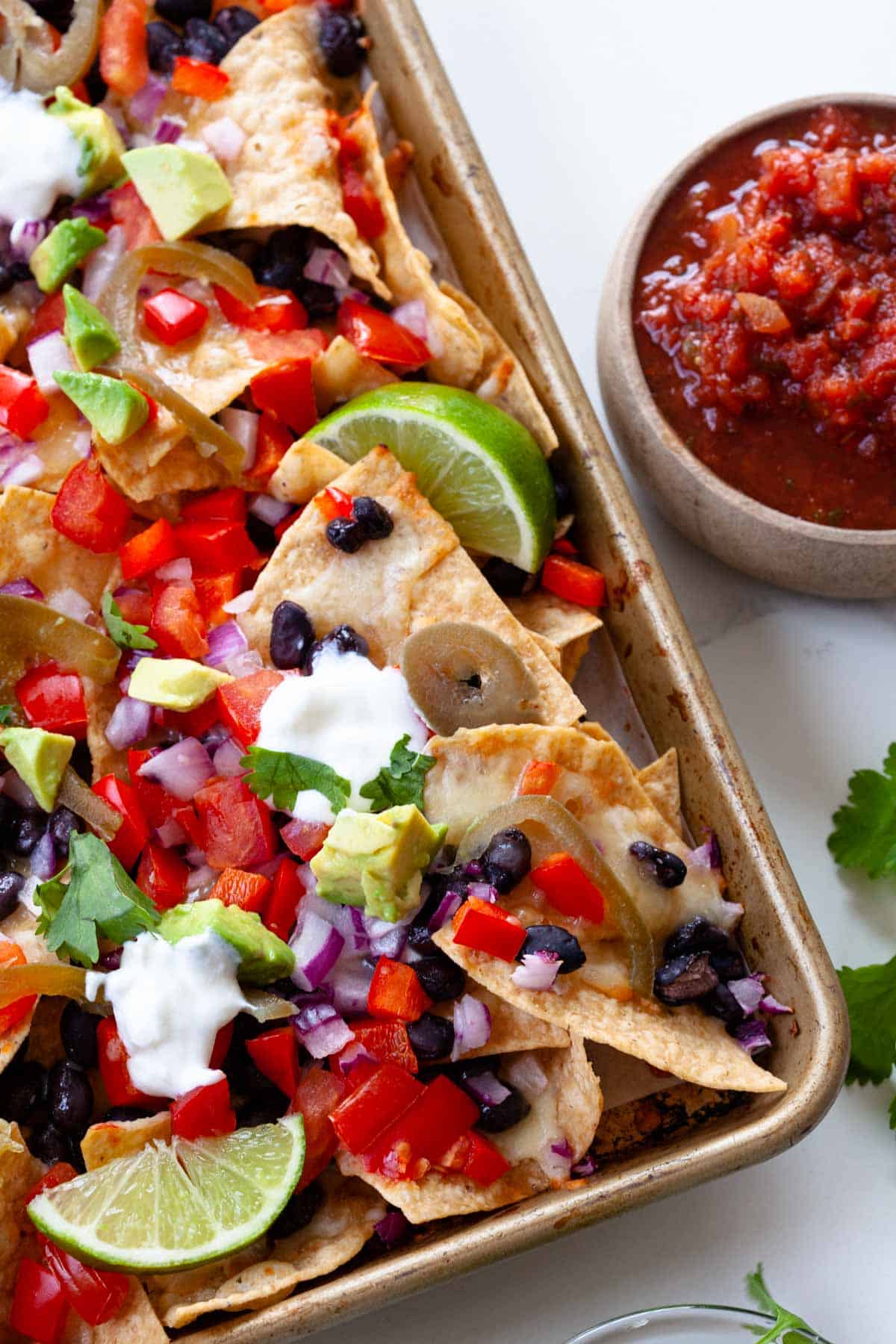 For more sheet pan recipe inspiration, check out my other recipes below!
If you like this recipe, please be sure to comment and give it a 5 star rating below. If you make it, share it on Instagram and tag me @karalydonrd and I'll re-share it with my followers! If you want to save this recipe for later, be sure to pin it on Pinterest!
Don't ever miss a recipe! Sign up to receive my monthly newsletter with a round-up of recipes from the previous month and get my FREE guide when you sign up: Rediscover the Joy in Eating: 5 Simple Steps to Stop Stressing Over Food + Enjoy Every Bite
Print
clock clock iconcutlery cutlery iconflag flag iconfolder folder iconinstagram instagram iconpinterest pinterest iconfacebook facebook iconprint print iconsquares squares iconheart heart iconheart solid heart solid icon
Description
Ready in just 20 minutes, these vegetarian nachos are the perfect appetizer for a party or an easy, quick weeknight dinner. Loaded with black beans, cheese, and veggies like bell pepper, tomato, and red onion, they are sure to satisfy!
1 bag tortilla chips (about 12 ounces)
1.5 cans black beans, drained and rinsed (about 2 1/4 cups beans)
1.5 cups thick-cut cheddar cheese
1.5 cups thick-cut Monterey jack cheese
1 red bell pepper, diced (about 1 1/4 cups)
2 small tomatoes, diced (about 1 cup)
1/2 red onion, diced (about 1 cup)
Optional toppings:
salsa
guacamole or diced avocado
pickled jalapeno
cilantro
sour cream or Greek yogurt
limes
Preheat oven to 400 degrees F and line a large baking sheet with parchment paper.
Pour tortilla chips onto parchment-lined baking sheet, minimizing gaps between chips.
Evenly distribute beans over chips followed by cheddar and monterey jack cheeses.
Sprinkle bell pepper, tomatoes, and onion over top of cheese.
Bake nachos until cheeses are melted and edges of chips are just starting to brown, about 10-15 minutes.
Add your toppings of choice.
Notes
Opt for thick-cut shredded cheese vs. finely shredded as thick-cut melts better for nachos.
Adding the cheese after the beans helps the beans stick better to the chips.
Prep Time: 10 minutesCook Time: 10 minutesCategory: AppetizerMethod: Sheet PanCuisine: Mexican
Keywords: vegetarian nachos, vegetarian loaded nachos, veggie loaded nachos